i have a confession to make. i'm kind of on a diet. the "paleo" diet. there are some convincing scientific reasons for this diet – you eat like a caveman – hunter/gatherer (read more about it here). but truthfully, i am on this diet because a different kind of scientific method:  i saw a friend at a wedding and she looked amazing. i asked her secret. she described a mixture of this diet and high-intensity cardio.
SO i'm a few weeks in and i've gathered some great recipes! thought i'd share two that i keep coming back to.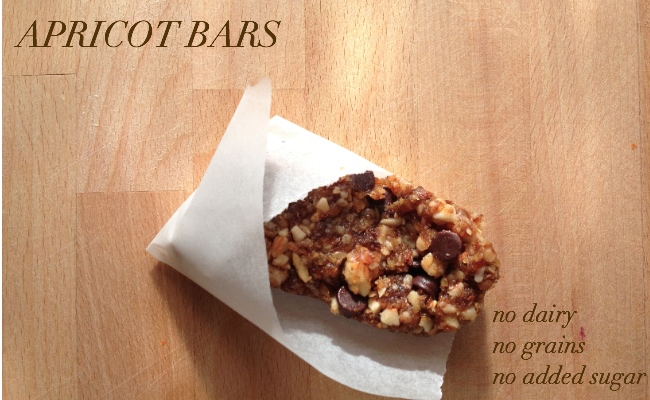 JUST like a larabar – except you can make it in your food processor! so cheap and so easy!
simple and delicious! and with a bag of veggie stirfry this is on the table in 30 minutes – no joke!
click through for the recipes… 
APRICOT BARS 
slightly adapted from Everyday Paleo
1/2 cup raw almonds
1 cup raw walnuts
1/3 cup flaxseed meal
1/4 teaspoon sea salt
12 Medjool dates
1 cup dried apricots (unsweetened)
1/3 cup chocolate chips
3 T water
Extra Virgin Coconut Oil (for pan)
—
1. Pulse the nuts and salt in a food processor until smooth. Transfer to mixing bowl.
2. Pulse dried fruit in the food processor until combined. The mixture will form a big ball. Add to the mixing bowl.
3. Add the water and chocolate chips to the mixing bowl and kneed nuts & fruit to combine.
4. Grease a loaf pan with coconut oil.
5. Press mixture into loaf pan. Place in freezer for 1 hour.
6. Cut into bars and store in the refrigerator up to 5 days.
————-
GINGER ROAST CHICKEN with veggie stirfry
adapted from David Leibowitz's Roast Chicken with Caramelized Shallots – also amazing
this isn't 100% paleo, but it is 100% delicious
-
for the chicken:
3 T olive oil
3 T apple cider vinegar
1 T tamari (or soy sauce)
1 onion, chopped
4 cloves garlic, chopped
1 T ground ginger
8 chicken thighs
for the stirfry:
1 bag of broccoli, cabbage, mushroom, onion stirfry
coconut oil
2 T tamari
red chili flakes
2 T fresh ginger, minced
cilantro
1/4 cup chopped peanuts
-
1. Preheat the oven to 425ºF (220ºC).
2. In a large baking dish, mix the olive oil, vinegar, tamari, onions, garlic, ginger and some salt and pepper.
3. Toss the chicken in the mixture, so they're completely coated with the onions garlic. Turn the thighs so they are all skin side up.
4. Roast the chicken for about twenty minutes, until it starts to brown on top. Turn the pieces of chicken over. Scrape any juices and onion over the chicken that may be clinging to the pan, and bake for another ten minutes, or until the pieces of chicken are cooked through and the onion are well-caramelized.
5. In the last ten minutes of baking, sauté stir fry vegetables in coconut oil. Add tamari and chill flakes. Use a microplane to grate ginger right into your skillet.
5. Remove chicken from oven and toss in the stirfry. Top with chopped cilantro & peanuts then serve.